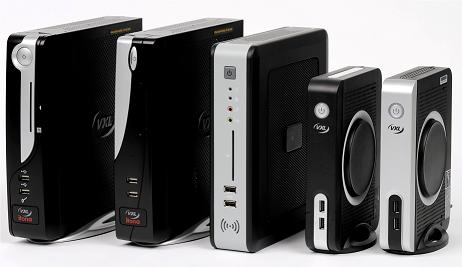 IT infrastructure became a business critical issue. At "IT Security", excellence is a way of life and the offered thin client technology helps enterprises build manageable, secure, flexible and scalable IT infrastructures. Moreover, it is in accordance with the latest tendences for "Green computing", giving customers low total cost of ownership (TCO), energy-saving endpoint devices which is paying investment back in months, not years.
There are many benefits to using thin clients when compared to a PC. Below are just a few of those benefits.
Higher security
- Mission Critical information remains on the data server
- Data can't be replicated outside the central server
- User access easily configured & monitored
- Improved Anti-Virus characteristics, only need to protect your servers
Lower cost
- Reduced central administration, maintenance, upgrade & training costs
- Reduced energy consumption
- Future proof of technology & investment
- Reduced disposal cost
- Reduced TCO (Total Cost of Ownership)
Reliable
- Robust, no moving parts, less likely to break down
- Near 0 downtime in the event of a breakdown
- Easily replaced with minimal impact on any "work in progress"
Flexible
- Functionality, capacity can be upgraded without changing the hardware
- Users can access the central server from anywhere in the world, no longer bound to their desk
- Multiple users can share the same machine (e.g. mobile or shift workers
Greener
- Lower carbon footprint
- Lower power consumption (up to 90% lower than a PC)
- Lower cooling requirement
- Less packaging Less waste (+75% lower waste disposal cost)
- Longer product lifecycle
Ergonomically designed
- Space saving
- Can be mounted to the back of a monitor or on the wall
- Light & easy to re-distribute
We deliver solutions for optimized and secure IT infrastructure based on the products of:
VXL Instruments
Wyse Technology
SUNDE Terminals

VXL Instruments delivers to customers higher returns on investment at a low cost of ownership.
Established in 1976, VXL is a global leader in thin client and server-based computing technologies and has been manufacturing world-class thin client devices for over three decades providing a high quality range of high-specification, value for money models that are made to the most exacting standards.
This single-minded focus on thin clients and commitment to product quality is at the core of what VXL represents today together with a passion to support companies around the world to successfully build efficient IT infrastructures that are flexible, secure, manageable and affordable.
A Citrix OEM partner since 1996 and lately a Microsoft OEM & VMware Technology Alliance partners, VXL's world-renowned 'Itona' brand of thin clients continues to go from strength to strength, with VXL on course to achieve its strategic goal of 25% market share of the global thin client market by the end of 2011.
VXL's mission statement, as a global leader in thin client and server-based computing technology, is to ensure its customers receive a higher return on their investment combined with a lower total cost of ownership.
Learn more about the products of VXL Instruments

Wyse Technology is the most known name in Cloud Client Computing.
The Wyse portfolio includes industry-leading thin, zero and cloud PC client solutions with advanced management, desktop virtualization and cloud software supporting desktops, laptops and next generation mobile devices. Cloud client computing replaces the outdated computing model of the unsecure, unreliable, energy-intensive and expensive PC, all while delivering lower TCO and a superior user experience.
Learn more about the products of Wyse Technology
Eco-friendly computing
Sharing the untapped resources of a single host PC by multiple users, SUNDE drastically reduces the TCO (Total Cost of Ownership) of computing by 75% on hardware (a SUNDE device only costs one quarter of a standard PC), 85% on maintenance (your IT manager can focuses on the maintenance of the host PC).

Green solution
SUNDE is a highly impacted, simple and small device that weighs less than 300g, thus generates 95% less e-waste than a standard PC. In the whole life of a SUNDE, it releases to the environment much less CO2 emission, which is one of the most serious problems in the world. Besides, a working SUNDE only consumes 5 watts of electricity, while a standard PC consumes 200 watts.

Compatibility
As an open protocol used simultaneously by Windows and Linux for their remote desktop function, RDP is also adopted as the basic communication between the SUNDE terminals and the host PC. This provides SUNDE a congenital advantage to be compatible with the wide range of operation systems of both Windows and Linux.